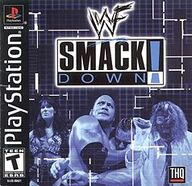 WWF SmackDown!
is a professional wrestling video game released for the
PlayStation
console
by
THQ
and developed by
YUKE's Future Media Creators
. It is the first game from the video game series, WWF SmackDown!  based on the
World Wrestling Federation
(WWF)
professional wrestling promotion
. This game was succeeded by
WWF SmackDown! 2: Know Your Role
.
SmackDown! was the first WWF game on the PlayStation to be published by THQ, taking over from the previous publisher Acclaim Entertainment.
The game was a bestseller in the UK upon release, and again three months later.
The story mode contains two main parts, first with the Pre-Season, but after ten in-game years of playing the Pre-Season, players are allowed to skip it. However, the season mode is nearly impossible to complete. By playing and advancing in the season modes players gain rewards such as unlockables or attires, but instead of unlocking new characters, players unlock new body parts to put on new creations, to play as that "unlocked" character. Once players build a creation, they must fight in a Pre-Season year to build their skills and make their alliances. Once players finish the Pre-Season, they can never replay it, and friends and foes for a creation are set in stone. The story mode contains no voice-overs, instead the characters meet each other backstage with mouths that moves to no voice. The game also lacks play-by-play color commentary. WWF Smackdown! has many match types including Singles, Tag Team, Hardcore, Steel Cage and many more.
| Superstars | Divas | Unlockable Superstars & Divas |
| --- | --- | --- |
| | | |