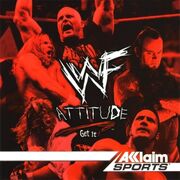 WWF Attitude is a professional wrestling video game based on the World Wrestling Federation (now WWE) released by Acclaim Entertainment in 1999 for the PlayStation and Nintendo 64. A slightly enhanced port of the game was later released for the Dreamcast, as well as a handheld version for the Game Boy Color. The game is named after the slogan of WWF's marketing campaign at that time with the tagline "Get it!"
The game is the sequel to WWF War Zone and is the last WWF game to be published by Acclaim. The WWF signed a deal with THQ later in 1999, ending a long relationship with Acclaim that began with WWF WrestleMania. Acclaim then signed a deal with Extreme Championship Wrestling, producing two games using the same game engine, ECW Hardcore Revolution and ECW Anarchy Rulz.[1]
Ad blocker interference detected!
Wikia is a free-to-use site that makes money from advertising. We have a modified experience for viewers using ad blockers

Wikia is not accessible if you've made further modifications. Remove the custom ad blocker rule(s) and the page will load as expected.